Our Church Building has had a makeover, as befits every 60 year-old!
Our former slightly dull grey exterior is now looking crisp and sharp after its birthday makeover. Don't believe it? Then judge for yourself Below:
Our 60th Birthday Celebrations!
Sunday 10th September 2017
A special service was held to commemorate the 60th Anniversary of the 1957 dedication of our Church building on this site. The Very Rev. Dr Lorna Hood was our guest preacher; she delivered an inspiring message to the congregation and afterwards assisted in the planting of a memorial tree. A buffet lunch was arranged which was attended by many members, both past and present, along with our various guests. The lunch featured a special cake, baked and decorated by David Paton and ceremoniously cut by Sophie Cumming, representing our youngest members and by Helen Porter who represented our older members. An exhibition of photographs and memorabilia from previous events was organised by Caroline Thomson, along with fascinating entries for the Westerton Primary School Art Competition.
The following slide show illustrates images of this happy occasion.

Other 60th Anniversary events that took place :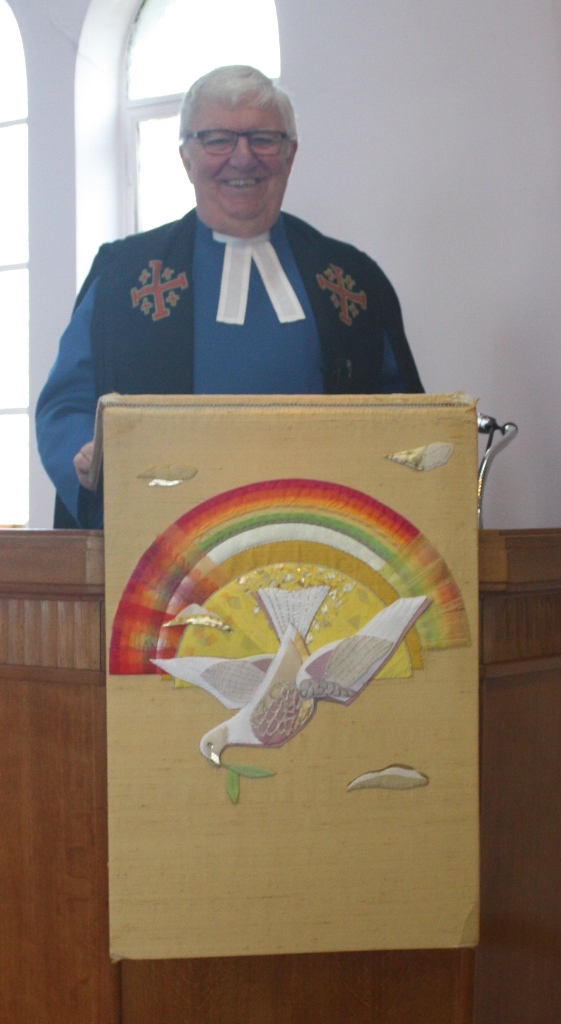 · On 15th October the Rev Eric Hudson, our former minister, shared in the leading of worship with our own Minister. He preached a sermon which was entirely appropriate to the occasion and many worshippers stayed to enjoy tea, coffee and a chat with Eric and his wife Anne in the hall afterwards.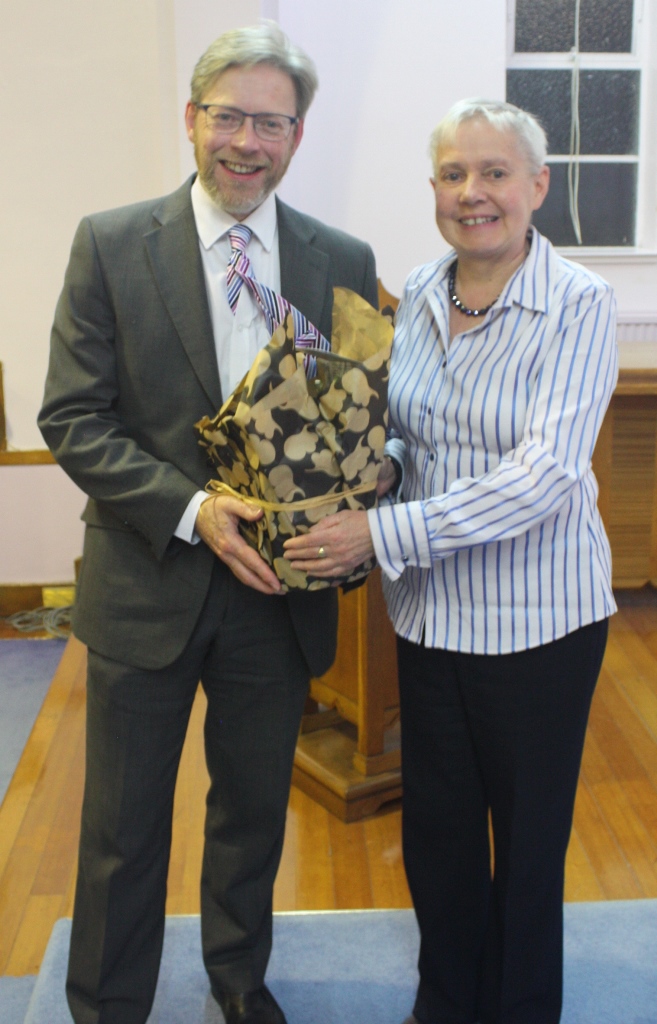 · On 21st October we held our 60th Anniversary dinner. This was served in our own hall, and conversation flowed round the tables, before everyone moved to the Church for the second part of the evening. The Rev. Roddy Hamilton, Minister of our "mother" church, New Kilpatrick, spoke of the joys of having a 60 year old "child", and presented us with a beautiful rose to be planted in our garden. A matching one would be planted in our "mother's" garden. Then we were entertained, and hopefully instructed, by a short one-act play "The Last Supper" written and directed by one of our members, Ian Cooper, and acted by a small group of his fellow elders. This took a wry but affectionate look at how church life might have been in Westerton 60 years ago.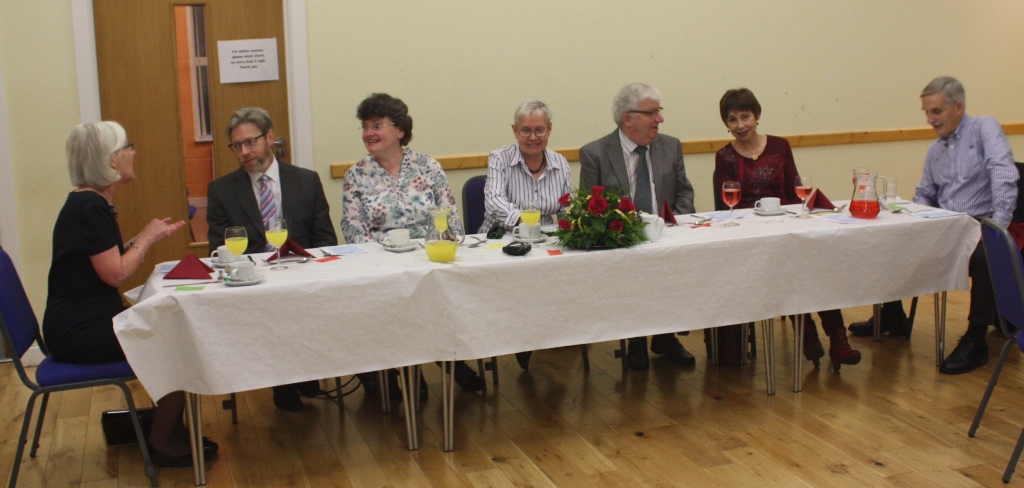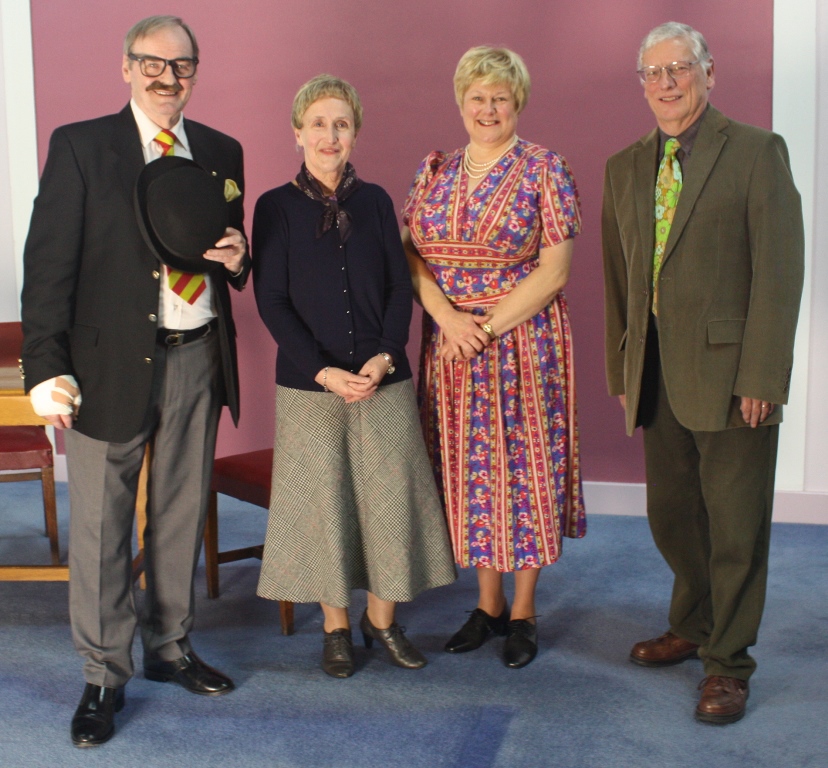 · Our "Songs of Praise" service on 29th October, with music provided by Clydebank Salvation Army Band, raised the rafters with marvellous music and wonderful singing by a packed congregation of members and guests. £700 was raised on behalf of the Salvation Army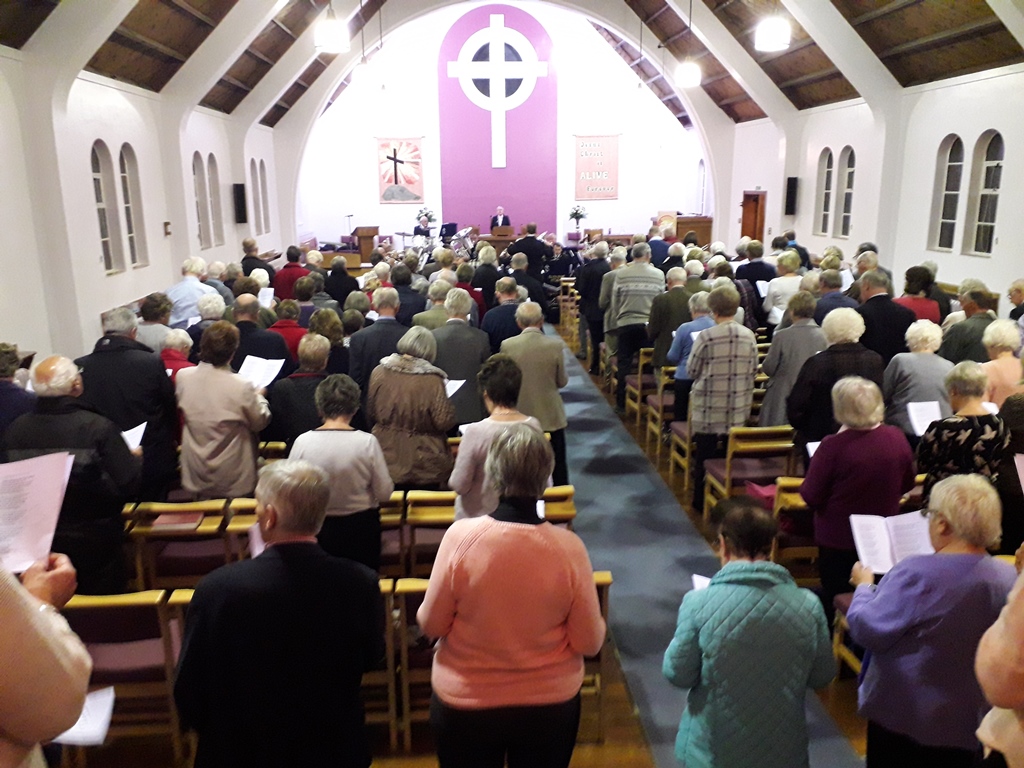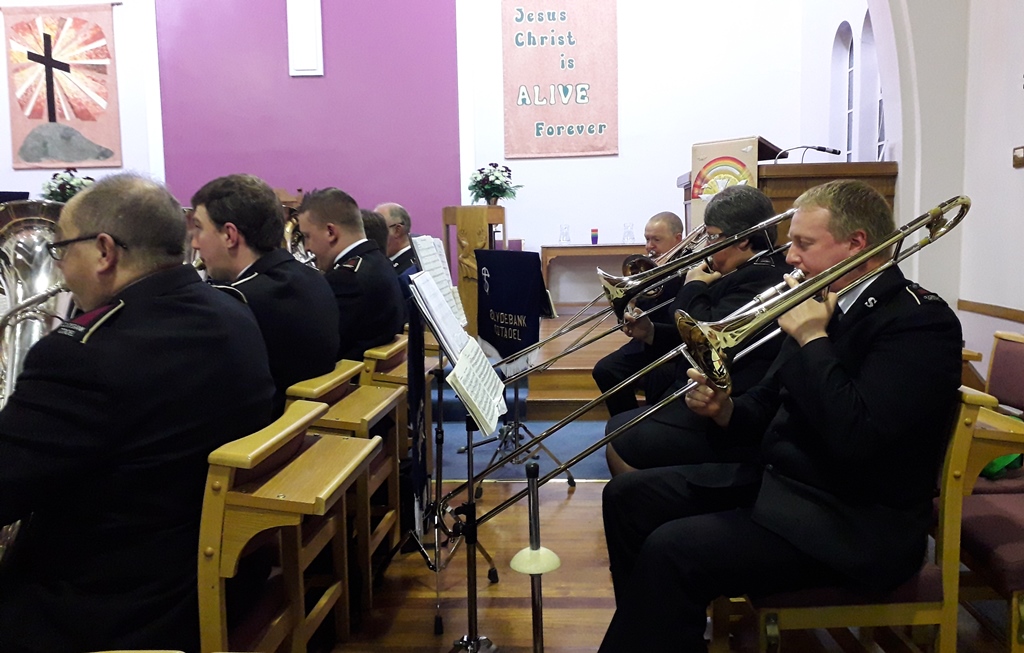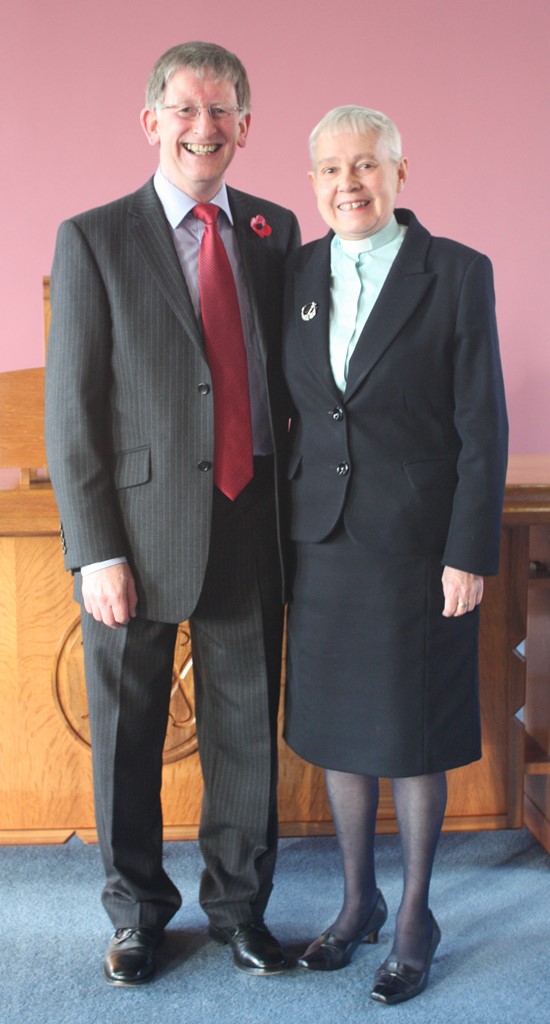 · On 5th November we welcomed our second former minister, Rev Iain Telfer, to preach, and also reminisce on his tenure in Westerton, which included providing support and guidance to a fairly promising divinity student ….. one Christine Goldie. It was once again a great pleasure to share refreshments in the hall after the service, and to catch up with a number of members of the Telfer family.

· Meanwhile, our nominated "Anniversary" Charity, Medi – Dogs, raised a total of £780.
And in Other News……
Westerton Guild also celebrated its 60th Anniversary on 11 September.
In 1957, membership was for women only – it was the Women's Guild after all - now there are several males in their ranks, reflected in the gender-neutral name, with John Millar as their current lead officer.
At its 60th celebration on Monday, 11th September, around 80 current and former members attended, as well as visitors from neighbouring Guilds. There was entertainment from two of our own Guild members, Christine Fergusson and Sandra Pairman as well as a rendering of Glasgow and Scottish street songs from an invited guest. "Pass the parcel" was organised by Wilma Gilfillan and caused much hilarity!
A lovely supper was prepared by Creme de la Creme (not forgetting the Marjory Orrock's famous tablet) and served up by friends of our Guild. Our delicious celebration cake was cut by two or our longest serving members – Helen Porter and Audrey Alderson.
Jean Muir and her team, Irene Littlejohn, Margaret Marsden and Irene Lyall, were the "brains" behind this very successful event.
As well as their celebration event described above, the occasion has been also marked with an anniversary plaque, among some stunning dahlias in the flower garden at Victoria Park.
---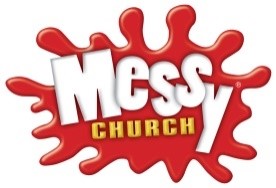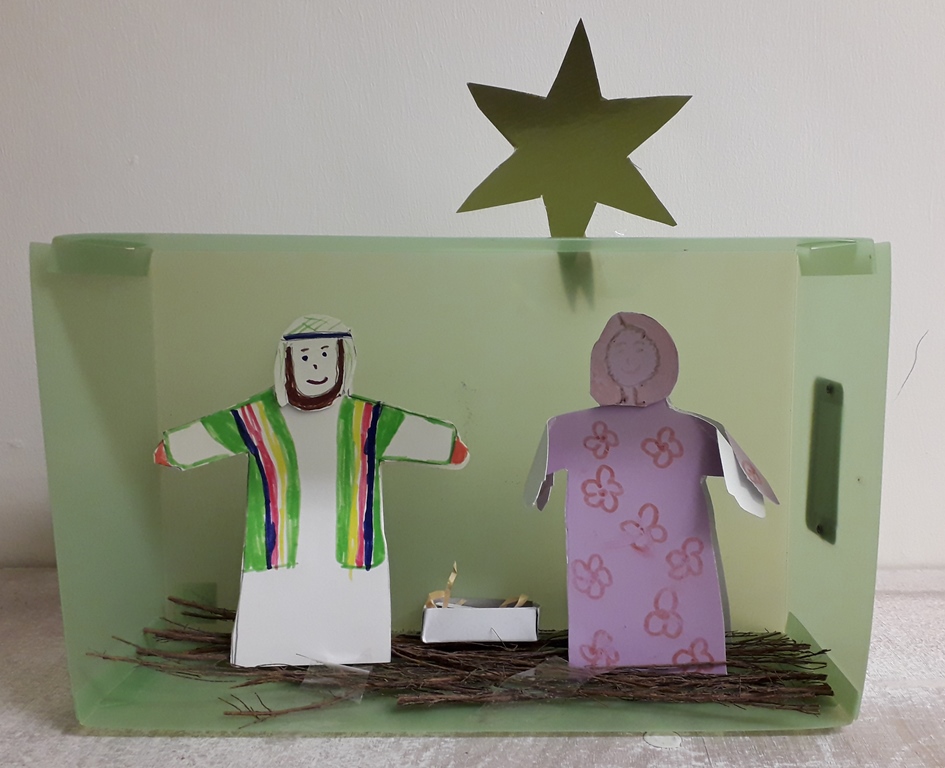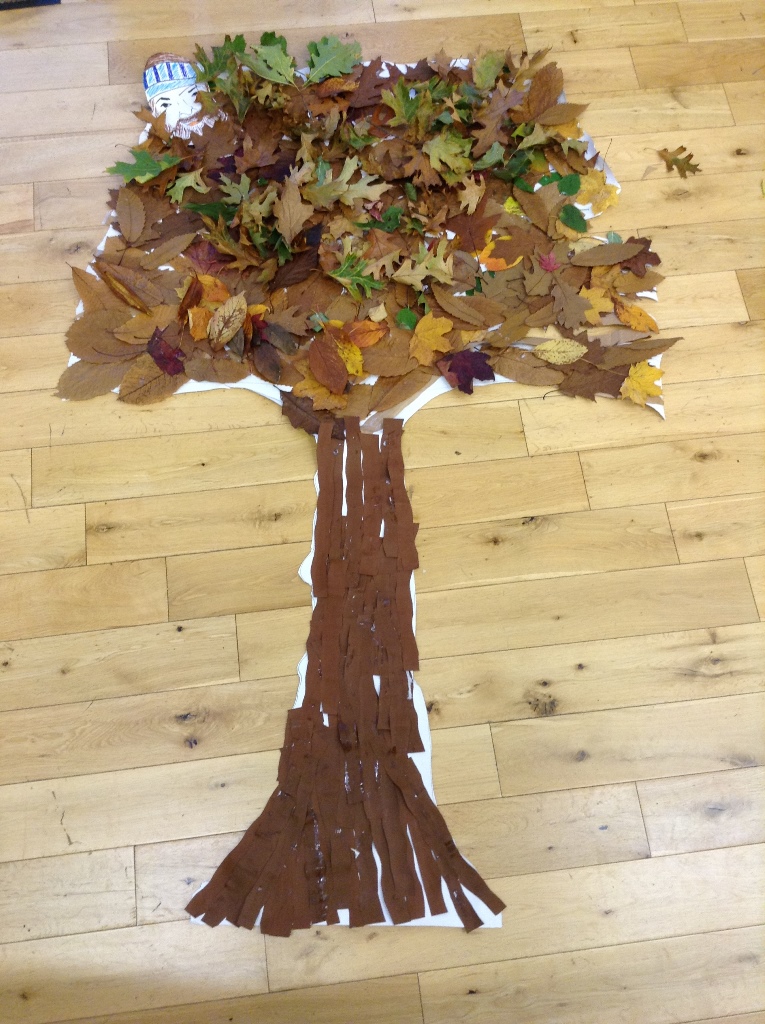 Messy Church, or as we prefer to call it, "Fairlie Messy Church", continues with its monthly meetings. In November, 36 Children learned about Zacchaeus, and created the "fairlie" life sized natural tree for him to hide in, while in December, naturally, we concentrated on the Christmas Story, and so 40 shoeboxes were converted into colourful nativity scenes complete with sheep, donkeys, shepherds and a star. And of course, not forgetting Mary Joseph and the baby. And straw!
---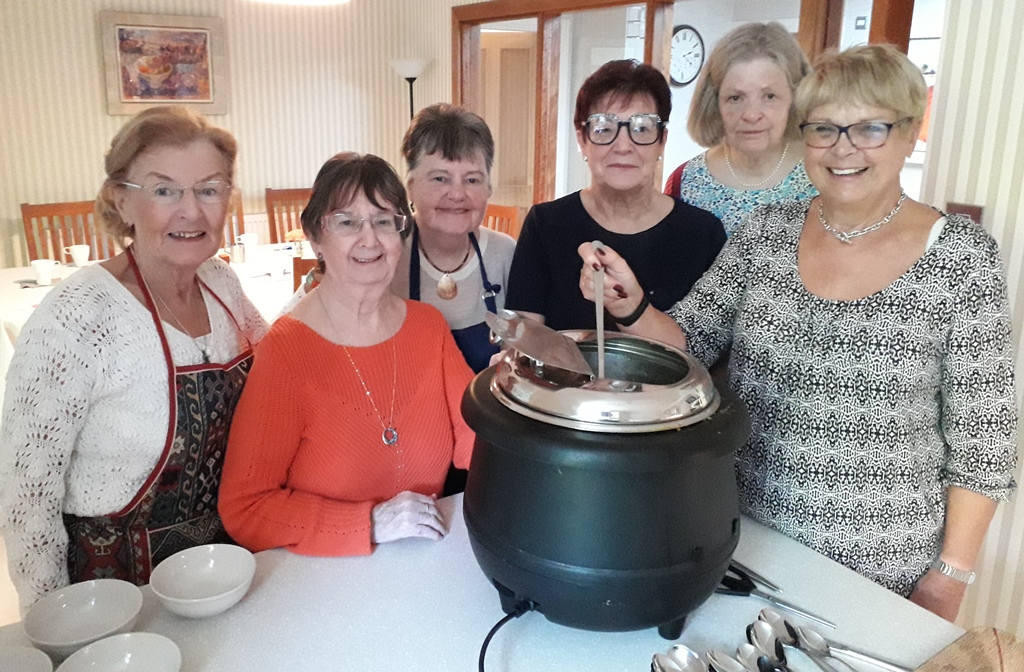 Ann Mitchell's Ann-ual Charity Soup Day

The magnificent total of £685 was raised for Mission International's BIG MEAL 2017 PROJECT by the charity soup day. This will provide over 200 children in underdeveloped countries a meal on Christmas Day. Ann would like to thank everyone who supported this , not forgetting her team of helpers who were kept very busy!

Dedication of New Windows

On Sunday 3rd December 2017, time was given over during the morning service, to dedicate the new stained glass window feature, which forms a central part of the Celtic cruciform set into the stonework above our chancel. The window is presented to the Kirk by Ian Cooper and his family in memory of his late wife Liz and it also commemorates our 60th Anniversary, therefore it is hoped that it may come to be known as The Anniversary Window. The Cooper family extends their heartfelt thanks to The Session and gratitude to all those who worked to achieve the necessary agreements and consent to allow the project to be carried out and they especially thank our minister Christine, for the sincere, personal and very appropriate tribute which she paid, during the dedication, to Liz Cooper, late wife of Ian and mother to John and David and grandmother to Ewan.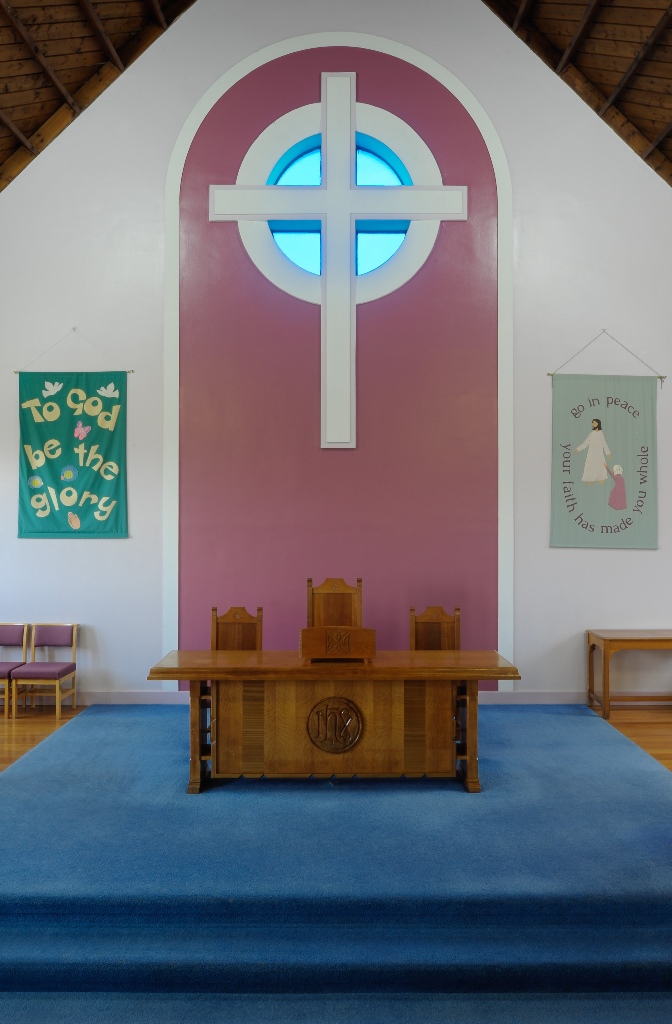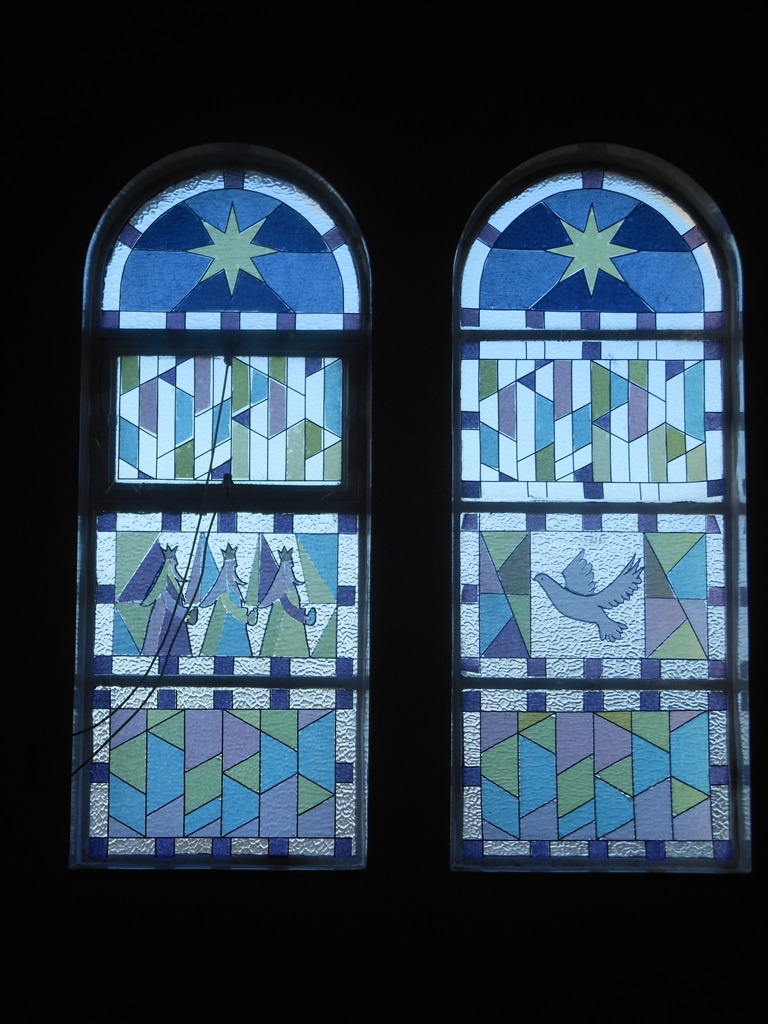 And more on Windows…..

As a finale to our Anniversary year, Westerton's Windows, or at least 12 of them, were given a stained-glass 'treatment' for Christmas. No expense was spared - acetate, tape, cellophane and tissue paper, plus lots of glue and sticky dots, transformed these plain windows into a colourful Christmas narrative, with imaginative illustrations created by Isabel McCaig. A select team, with minimal training, brought the windows to life, and hopefully they, the windows, will manage to survive until Twelfth Night!
The Westerton Church Magazine – Published 4 times a year, we hope to provide in due course, an online, as well as, printed edition.

---
Westerton Banners – Coming soon, we provide information on these iconic and beautiful additions to our church fabric – literally.