NEWS
---
Our Church Building has had a makeover, as befits every 60 year-old!
Our former slightly dull grey exterior is now looking crisp and sharp after its birthday makeover. Don't believe it?
Then judge for yourself Below:
And in Other News ....
---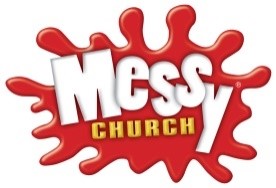 Messy Church, or as we prefer to call it, "Fairlie Messy Church", continues with its monthly meetings. In February, the children heard the story of the Good Samaritan, and the importance of being a good neighbour, working on an interesting modelling activity and completing an incident report, complete with map, to mark the scene of the crime.
The Guild
It hardly seems real that this current Guild session is now more than halfway through its programme and the remaining meetings promise to be as varied in content as those which concluded 2018.
Our first two meetings of 2019 saw an impressive turnout for both, despite unfavourable weather.
First, we welcomed David Sturgeon to entertain us with his wide selection of musical melodies and songs. Immersed in musical theatre, David is an excellent pianist with a fine tenor voice, and offered us Scottish favourites, songs from the shows, a couple of old Victorian parlour songs and several self-penned comedy items. He linked the pieces with amusing chat and anecdotes.
If we hadn't put out the lights, David would have been playing yet!
A fortnight later, the Guild found itself in the privileged position of hearing the answer to the question, "what does the minister actually do?"
Christine had 'road-tested' the talk a week previously at the Guild in Houston but she told us she had had to sanitise the script to protect the guilty, now that she was in front of her ain folk!
As ever, she was engaging and amusing, informatively telling us what would make up a typical week, although no two days, never mind two weeks, could be called 'typical'!
Christine detailed her, and every minister's, ordination vows outlining what the demands of ministry were: conducting public worship, promoting and promulgating the gospel, taking a full part in the work of the wider church especially at Presbytery level and have a pastoral concern for those under her care.
A great deal of preparation goes in to ensuring these aspects of ministry are carried out 'in all righteousness' which makes for a very busy week and, from time to time, a heavy workload.
Christine graciously paid tribute to the many individuals within the congregation without whose help and commitment some aspects of ministry and congregational life would be decidedly compromised.
The evening concluded with a lovely supper of Christmas 'leftovers'.
In February, we welcome Major Ian Patrick, who will address us on the work of the Salvation Army Emergency Services and two weeks later Philippa Bonella, speaking on behalf of Christian Aid, one of our Partner Projects, will tell us of the situation in Israel and Palestine. These meetings are on the 4th and 18th.
Plans for our spring fundraiser are well under way. This will be an event in March. Watch this space.
Our summer outing on June 3rd will be a tour of Erskine Hospital, with afternoon tea and then on to a venue for an evening meal. As ever, we hope for a fine day of weather as the grounds at Erskine are very much worth exploring.
As always, our Guild welcomes everyone who has an interest in any of our meetings. We promise you a super evening and there would be no expectation of 'joining'!
The Westerton Church Magazine – Published 4 times a year, we hope to provide in due course, an online, as well as, printed edition.

---